Gilbert And George Essay Checker
PALINDROME: Gilbert & George I Jitish Kallat
24 October 2013 - 19 December 2013
Opening: 23 October 2013, 5 pm – 10 pm on the occasion of the opening of the
Center of Contemporary Art (CCA) at Gillman Barracks
In the exhibition titled Palindrome, ARNDT brings together four artworks into conversation, two each by Gilbert and George and Jitish Kallat. Generationally far apart and geographically distant their art is often informed by the cities where they live; the quotidian and the unexceptional become the ground for playful and probing investigations.
As with a 'Palindrome', where a text may be read the same way in either forward or reverse direction, the four pictures in the exhibition unfold in symmetry. For instance in 'LIFE STRAIGHT' from the remarkable 'London Pictures', Gilbert and George classify 4000 newspaper clipping based on a repeated key word 'life', their often shocking and contradictory recurrence create dense narratives overlaid on disintegrating self-portraits of the artists; their vigilant eyes penetrating these complex chronicles. In Kallat's paintings a person might read a newspaper while criss-crossing zippers, evoking topographical views of street-maps or railway tracks, unveil an overcast sky, elsewhere a daily commute becomes the site for the celestial and the uncanny to dishevel the habitual. In Kallat's paintings layered with varied references, a photographic image often acts as a trigger to proliferate the picture plane with stories; In Gilbert and George the grandeur and grammar of history painting is re-invented through the format of photography.
'Palindrome' animates the many formal and thematic overlaps between two artists in whose work the picture plane becomes a resourceful ground to fashion a vision of the world.
Parallel to the exhibition in the gallery, in the viewing room we present a selection of "Selfportraits" by Gilbert & George, Sophie Calle, Joe Coleman, Maha Malluh, Mike Parr, Ariadhitya Pramuhendra and Agus Suwage.
ARNDT Singapore
Gallery Opening hours: Wed – Sat, 11am – 7pm / Sun, 11am – 6pm
Contact: Mariko Owen, Mariko@arndtberlin.com
Jitish Kallat
born in 1974 in Mumbai, India
lives and works in Mumbai
Jitish Kallat is one of the most exciting and dynamic Asian artists to have received international recognition in recent years. Working across a variety of media including painting, sculpture, photography and installation, his work reflects a deep involvement with the city of his birth (Mumbai) and derives much of its visual language from his immediate urban environment. His subject matter has been described previously as 'the dirty, old, recycled and patched-together fabric of urban India'. Wider concerns include India's attempts to negotiate its entry into a globalised economy, addressing housing and transportation crises, city planning, caste and communal tensions, and government accountability.
Many of Kallat's works focus on Mumbai's downtrodden or dispossessed inhabitants, though treating them in a bold, colourful and highly graphic manner. Kallat traditionally mounts his paintings on bronze sculptures that are re-created from the wall adornments found on the 120-year-old Victoria Terminus train station in the centre of Mumbai.
"The city street is my university. One finds all the themes of life and art – pain, happiness, anger, violence and compassion – played out here in full volume. Scale is merely one of the many tools one can deploy in the creation of meaning, and decisions such as big, small, lifesize, etc., are as much acts of meaning creation as they may be retinal or aesthetic considerations."
Jitish Kallat, quoted in The Asian Art Newspaper, February 2010
CV
Jitish Kallat participated all major shows about Indian art: "India: Art Now" at Arken Museum, Ishoij, Denmark, 2012-13, "Indian Highway IV", MAXXI, 2012, Rome, Italy and in Musée d'art contemporain de Lyon, 2011, Lyon, France "The Empire Strikes Back: Indian Art Today," Saatchi Gallery, London (2010), "Chalo! India: A New Era of Indian Art," Essl Museum – Contemporary Art, Klosterneuburg, Austria, and Mori Art Museum, Tokyo (both 2009), as well as "Indian Highway," Serpentine Gallery, London (2008/09). Solo presentations include "Circa" at Ian Potter Museum of Art, Melbourne (2012), "Public Notice 3" at the Art Institute of Chicago, Chicago (2010); "Likewise" at Arndt and Partner, Berlin (2010); "The Astronomy of the Subway" at Haunch of Venison, London (2010); Sherman Contemporary Art Foundation (2008), "Die Tropen. Ansichten von der Mitte der Weltkugel", Martin-Gropius-Bau, Berlin (2008), The 6th Gwangju Biennial, Gwangju, Korea (2006), "Indian Summer", Ecole Nationale Supérieure des Beaux-Arts, Paris (2005 ) and the Kunsthalle Luckenwalde, Germany (1998).


Gilbert & George
Gilbert was born in 1943 in Dolomites, Italy
George was born in 1942 in Devon, UK
They both live and work in collaboration in London
Gilbert & George have long since been acknowledged icons of contemporary art.
In 1967 they met as students at St Martin's School of Art in London. By 1969 they were reacting against approaches to sculpture then dominant at St Martin's, which they regarded as elitist and poor at communicating outside an art context. Their strategy was to make themselves into sculpture, so sacrificing their separate identities to art and turning the notion of creativity on its head. Working as a pair and presenting themselves as 'living sculpture', incorporating themselves into their art, setting out to provoke their viewers, making them think and question conventions and taboos.
In 1971 Gilbert & George made their first 'photo-pieces', which remained their dominant form of expression. They gradually shifted the emphasis of their subject-matter away from their own experiences of life. Instead they concentrated on the inner-city reality that confronted them on the street and on the structures and feelings that inform life such as religion, class, royalty, sex, hope, nationality, death, identity, politics and fear.
In their new LONDON PICTURES Gilbert & George present an epic survey (292 pictures) of modern urban life in all its volatility, tragedy, absurdity and routine violence. Brutal and declamatory, these brooding and disquieting pictures have been created from the sorting and classification by subject of nearly 4000 newspaper headline posters, stolen by the artists over a number of years.
CV
Gilbert & George have participated in many important group and solo exhibitions including 51st International Venice Biennale (2005), Turner Prize (1984) and Carnegie International (1985). They have had extensive solo exhibitions, including Whitechapel Gallery (1971-1972), National Gallery, Beijing (1993), Shanghai Art Museum (1993), Stedelijk Museum, Amsterdam (1995-1996), Musée d'Art Moderne de la Ville de Paris (1998), Serpentine Gallery, London (2002), Kunsthaus Bregenz (2002), Kestnergesellschaft, Hannover (2004-2005), Tate Modern, London, Haus der Kunst, Munich (both 2007), Brooklyn Museum of Art, New York, Philadelphia Museum of Art (both 2008), 'Jack Freak Pictures', CAC Malaga, Museum of Contemporary Art, Zagreb, Palais des Beaux Arts, Brussels (all 2010), Deichtorhallen, Hamburg, Kunstmuseum Linz (both 2011) and Laznia Centre for Contemporary Art, Gdansk (2011-2012). The "London Pictures" have been on exhibited at Museum Küppersmühle, Duisburg (2013) and Casal Solleric, Mallorca, Spain (2013).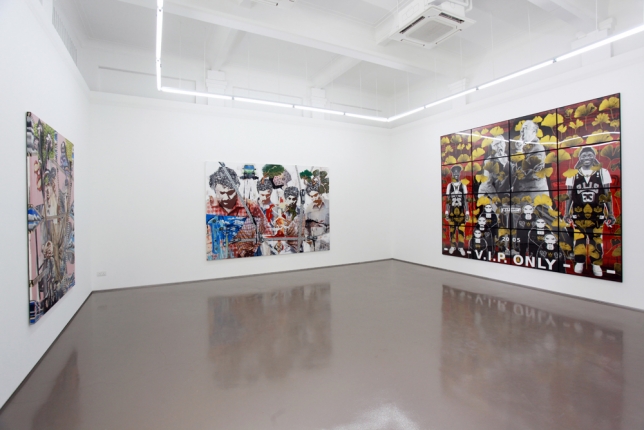 Installation view

Installation view
I have some good news—kick back, relax, enjoy the rest of the summer, stop worrying about where your life is and isn't heading. What news? Well, on 24th September, we can officially and definitively declare that postmodernism is dead. Finished. History. A difficult period in human thought over and done with. How do I know this? Because that is the date when the Victoria and Albert Museum opens what it calls "the first comprehensive retrospective" in the world: "Postmodernism—Style and Subversion 1970-1990."
Wait, I hear you cry. How do they know? And what was it? Postmodernism—I didn't understand it. I never understood it. How can it be over?
You are not alone. If there's one word that confuses, upsets, angers, beleaguers, exhausts and contaminates us all, then it is postmodernism. And yet, properly understood, postmodernism is playful, intelligent, funny and fascinating. From Grace Jones to Lady Gaga, from Andy Warhol to Gilbert and George, from Paul Auster to David Foster Wallace, its influence has been everywhere and continues. It has been the dominant idea of our age.
So what was it? Well, the best way to begin to understand postmodernism is with reference to what went before: modernism. Unlike, say, the Enlightenment or Romanticism, postmodernism (even as a word) summons up the movement it intends to overturn. In this way, postmodernism might be seen as the delayed germination of an older seed, planted by artists like Marcel Duchamp, during modernism's high noon of the 1920s and 1930s. (Seen in this light, the start-date that the V&A offers for postmodernism—1970—is quite late.)
Thus, if modernists like Picasso and Cézanne focused on design, hierarchy, mastery, the one-off, then postmodernists, such as Andy Warhol and Willem de Kooning, were concerned with collage, chance, anarchy, repetition. If modernists such as Virginia Woolf relished depth and metaphysics, then postmodernists such as Martin Amis favoured surface and irony. As for composers, modernists like Béla Bartók were hieratic and formalist, and postmodernists, like John Adams, were playful and interested in deconstructing. In other words, modernism preferred connoisseurship, tended to be European and dealt in universals. Postmodernism preferred commodity and America, and embraced as many circumstances as the world contained.
YOU'VE HIT THE LIMIT
You have now reached your limit of 3 free articles in the last 30 days.
But don't worry! You can get another 7 articles absolutely free, simply by entering your email address in the box below.
When you register we'll also send you a free e-book—Writing with punch—which includes some of the finest writing from our archive of 22 years. And we'll also send you a weekly newsletter with the best new ideas in politics and philosophy of culture, which you can of course unsubscribe from at any time
Prospect takes your privacy seriously. We promise never to rent or sell your e-mail address to any third party.
You can unsubscribe from the Prospect e-mail newsletter at any time.